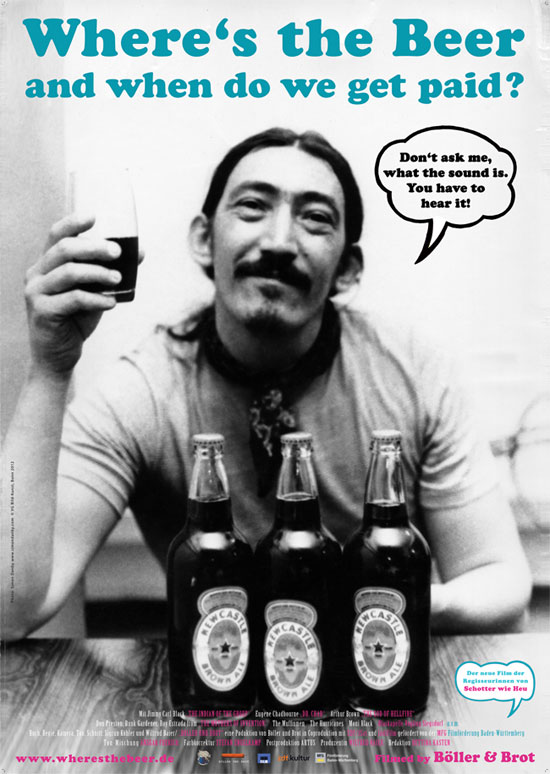 Now on DVD!
Recorded in 2007-8, the movie was first previewed in Hof, Germany in 2012
It had its first showing outside Germany in Liverpool, England on Nov 02, 2013
First shown on German TV Oct 30th 2014! 
Both English and German are spoken in the film, with the English being subtitled.
Of course Jimmy, Eugene Chadbourne and others speak English.
Check out the homepage of the movie for your copy of the DVD, the poster, the beer mats and the postcard!

[hint: use your browser's Translator feature to translate the German into English]
If that doesn't help, email moniblack@jimmycarlblack.com for a copy of the DVD (PAL 2 system). 
Some European reviews of the film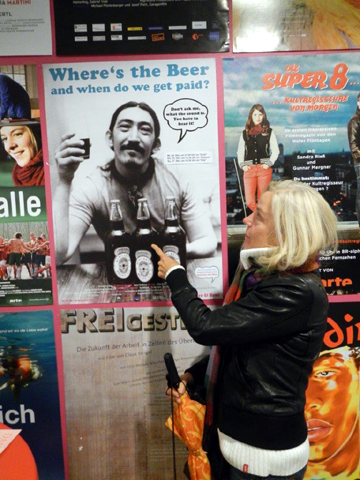 This documentary shows Black in his "native" Bavaria, where he has to hoof it from gig to gig to earn money. Tragicomic, honest, entertaining .. 
Christian Meyer [choices.de]
For fans of the Mothers of Invention in general and in particular Jimmy Carl Black, Sigrun Köhler and Wiltrud Baier's documentation is without question a godsend: Just the images of Black's last tour in America, in Bavaria, interviews with former bandmates and vignettes of Black's life. Enough interesting moments to lift the heart ... " 
Michael Meyns [Programmkino.de]
"My favorite movie" - film critic Lutz Grafe discussing Where's the Beer and other contributions at the  Stranger than Fiction Documentary Film Festival of Jan 2013 in Germany.
"a touching, often funny portrait of a musician who never quite made ​​it into the limelight yet satisfied, looked back on an exciting life." 
Der Spiegel
"A funny and melancholy road movie..." 
Süddeutsche Zeitung
Thank you very much for the DVD! It's fantastic... 
[R.T. May 2016]