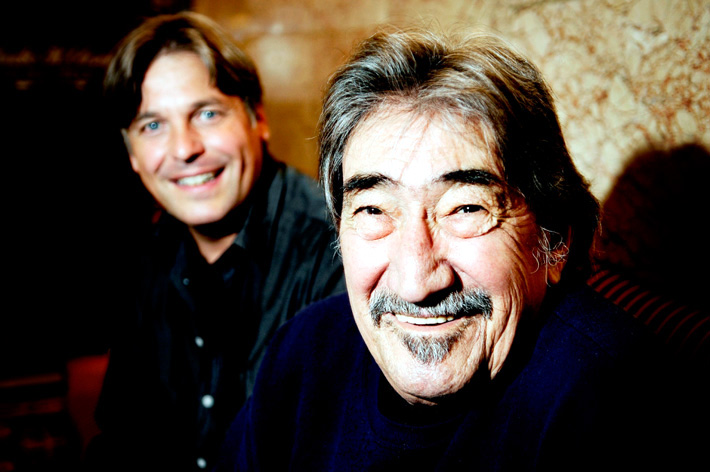 Recorded in 2007 in collaboration with Jon Larsen:
"...Back to Oslo and another recording with Jon and the CD is called The Jimmy Carl Black Story... 
…I basically went into the studio one night and told my life story. It took me about one and a half hours to do it. 
He then used some blues players from Oslo and also some of the guys from the Strange News CD for the background music."
[For Mother's Sake]
This 2CD issue also includes the "The Surrealistic Space Odyssey", with Jimmy providing the narrative, at the helm of a spaceship bound for Mars.
2021: Our stock is exhausted - try Jon Larsen, Hot Club or Amazon for your copy
Here's a review translated from the Brazilian edition of Rolling Stone:
'The second part of a supposed Space / Martian trilogy The Jimmy Carl Black Story presents, in "parajazzística" clave, a pretty surreal odyssey through the broken red planet. Close Encounters included. A Project of existential appeal from virtuoso guitarist and Norwegian stoner Jon Larsen, the second record has the eternal "Indian of the Group" (that was how Jimmy Carl Black was announced emblematically in the heyday of the Mothers of Invention, Frank Zappa) as a theme, as narrator and as himself! More experimental and less strange than the predecessor, Strange News from Mars, there could be no more cool tribute to the revered musician Texan who died five days after its release. Jon Larsen and his super group (Tommy Mars is a special guest on keyboards) anchor the amusing narration in one of those heavy mergers that can please both lovers of the stage Zappa (Roxy & Elsewhere) as those who revel in the sonic-esoteric ramblings of good old Sun Ra. The Indian of the Group lives there in outer space, probably crossing time with asteroid 3834 - "Zappafrank".' [Translation: original link now lost in a cloud somewhere,unfortunately]
[*The Story So Far: From The Jimmy Carl Black Story, Part 20]