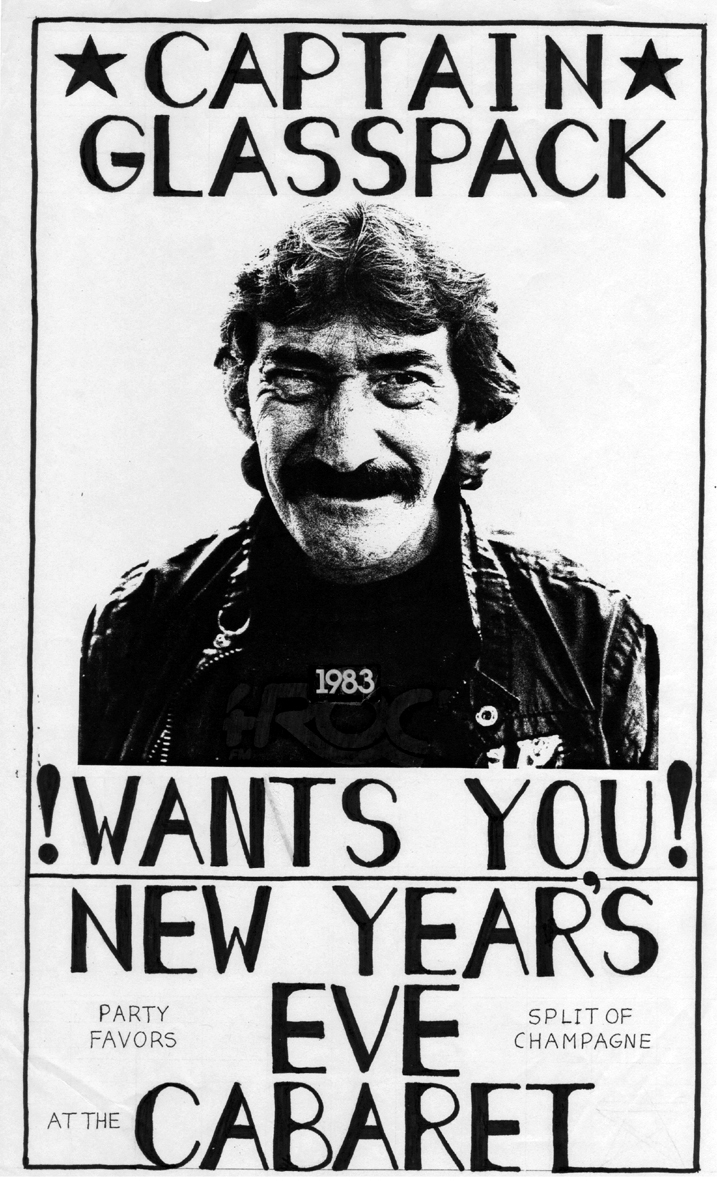 [I had a band called Captain Glasspack and his Magic Mufflers in Santa Fe, N.M. It was the name that the Mothers had originally used back in California in 1965. We were playing around a few places but not really enough to sustain a living. I started to look around for work and 
I took this job with a guy named Buddy Owen who was a singer and (so called) guitar player that had his "Blues Review".]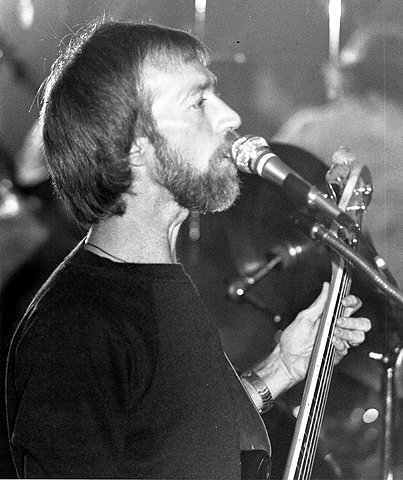 Dennis recalls:
I met Jimmy Carl in Santa Fe New Mexico when 'Captain Glasspack and His Magic Mufflers' formed in June of 1982. The band consisted of 4 to 7 pieces depending on availability. David Gilliland and George Langston on guitars, Sherman Rubin on keyboards, Mike Waggoner on steel guitar, Tony Young on bass, and of course, Jimmy Carl on drums. We had a dwarf (who we called our miniature motorcycle gang) by the name of Babe Rainbow who operated lights when available and never expected payment. I ran sound, did backup vocals from the board, played some bass, and was designated group manager. My name is Dennis D. Young which JCB (and Husta) immediately designated as 'Denny'.
Captain Glasspack was a high energy band playing mostly in the Santa Fe area at places like Club West, The Cabaret, The Line Camp, and Kachina Lodge. Outside of Santa Fe we performed in Albuquerque, Angel Fire, Anthony (Anthony Gap), and Silver Springs.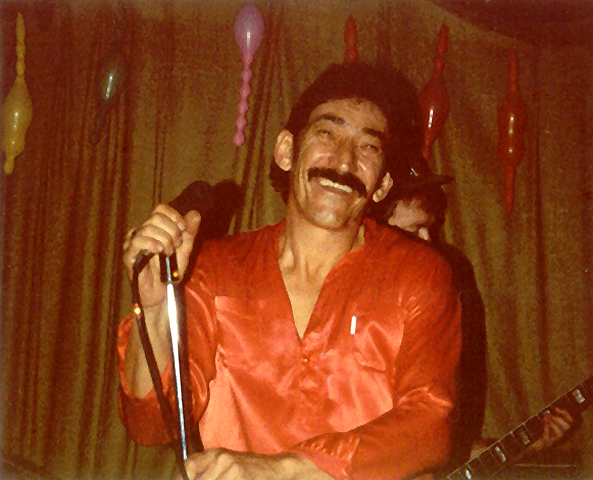 The most memorable performance was December 31st, 1982 at The Cabaret (a converted theater). The band played magnificently for an appreciative New Year's Eve crowd. Mike Waggoner brought the house down with an instrumental rendition of 'Somewhere Over The Rainbow' on steel guitar as the final song. Although the band had a good following there just never seemed to be enough clubs that could afford to pay a 6 or 7 piece group on a regular basis to keep us consistently working. Each of the musicians would fill in with other groups to supplement income.
Jimmy Carl and I met a guitarist/vocalist based in Taos by the name of Kardoriffic (don't ask). We formed a 3 piece group called the Young-Kardo-Black band and played at small venues such as The Fireside Theater in Los Alamos (for the cone heads), St. Bernard's at the Taos ski basin, the Amizette Inn half way up to the ski basin, and Ogilvie's on the Taos square. Young-Kardo-Black actually ended up playing more often than Captain Glasspack.
We played a Christmas benefit for needy children at Ogilvie's in December 1982. A rumor was in the air that Michael Martin Murphy might make an appearance. In anticipation of him showing up, Jimmy, Kardo, and I rehearsed 3 or 4 of his most popular songs including the harmonies. Michael did show up and seemed quite pleased and surprised how prepared we were. He wanted more but unfortunately we had not rehearsed any other of his originals. He performed a few other originals solo then called us back up to join him on a few standard progression songs to end the night. We actually had not expected him to perform more than 4 or 5 songs but he ended up playing an entire set.
On another occasion I believe was in February of 1983, Young-Kardo-Black played a gig at St. Bernard's at the ski basin. Since the skiers wanted an early start on the slopes, we never played past 10pm. On the way back down to Taos we stopped at the Amizette Inn to hear BW Stevenson perform. When we entered the club BW was performing acoustic solo after a small group played prior to his performance. The crowd was not paying much attention as the Kustom PA being used sounded horrible. I took it upon myself to make adjustments on the PA obtaining more clarity and volume. While making the adjustments I noticed Jimmy Carl out of the corner of my eye pulling out the drum kit in the corner. Once they were set he started lightly playing a pattern for BW. Being familiar with most of BW's songs I thought what the hell and started playing along on my bass. BW was looking around wondering what was happening. After about 2 or 3 songs Kardo came up and started playing electric guitar. The crowd went from inattention, to respectable applause, ending with a standing ovation by the end of the night. BW was a very appreciative gentle man and we considered it an honor and pleasure to play his songs.
The Buddy Owen Saga
Here's the pink part of the story. Sometime later that same February in 1983 I received a call from someone by the name of Buddy Owen. He told me he had played with Vanilla Fudge (yeah, right) and was looking for a bass player. I asked him how he got my name and number to which he replied Jimmy Carl. After listening to his spiel I declined, told him I was not interested, and intended to continue playing with Jimmy. To my extreme shock and surprise Jimmy Carl called me and said he had agreed to tour with this guy as the second drummer. So, we wrapped up our gigs with a disappointed Kardo, packed my Toyota pickup with necessities, and headed to meet up with Buddy Owen's Blues Review in Austin Texas around mid March. Having friends in Austin, they offered for me to leave my truck at their place. The band consisted of Buddy on guitar, Mike Ash on keyboards, Reno Masatta on drums, Jimmy on drums, myself on bass, a female backup vocalist (can't remember her name), and Buddy even had a roadie named Bryan.
We had 6 days of quasi rehearsals and 1 unpaid gig in Austin before hitting the road for Florida in Buddy's '53 Greyhound bus for what was supposed to be a Florida coast tour. On the way to Florida we discovered a few oddities about Buddy Owen. His wife's name was Annie and her claim to fame was having an article in Oui magazine called 'Little Oral Annie'. Illicit drugs were readily available and he verbally trashed people. Buddy must have had a real sales pitch as he had procured some $20,000 from a source in California and another $10,000 from someone in Austin. Once we arrived in Winter Haven Florida at his parent's house we ended up living on the bus in their driveway for a couple of days. We played 1 unpaid gig for about 5 people. Next thing we knew the bus had been relocated to an orange grove owned by one of Buddy's friends where we stayed and lived for nearly 2 weeks. Rather than harvesting oranges, the owner was excavating and selling soil from the property to purchase crack cocaine. The owner and his wife and newborn child were living in a trailer about the size of an outhouse. We would not leave the bus at night due to the fact that the cracked up owner would scan the area with his AK-47 looking for narcs or stick people. One night Buddy brought some of his criminal friends out for a party. We stayed on the bus but were unable to avoid attention. Buddy and 2 or 3 of his friends (one being a paroled cop killer) came on the bus merely to antagonize. We became so desperate one day we gathered enough oranges to sell and bought a bottle of Rebel Yell. While in orange grove hell we never played a gig. Little Oral Annie would bring us tuna fish sandwiches daily while her and Buddy were cozily living at his parents.
Finally the bus and us were moved to Haines City Florida and parked in front of another $10,000 victim's house. Luckily Buddy had gotten a premier 2 night gig at a club in Orlando using Jimmy Carl's name. The club had a hot band that was opening for us and we were pumped to play. When the opening band finished the crowd was rowdy and ready for more. Along with Jimmy's material and some original songs written by Mike Ash our set was pretty solid. Out of thin air, Buddy started off with Louie Louie which was not even on the radar. After playing that song for 20 minutes and me trying to disappear behind my amp, the crowd of probably 300 people dwindled down to no more than a dozen and I'm guessing they were too inebriated to leave. Needless to stay our night was short lived but the club owner did pay us to not play [the next night]. We all made about $80.
Buddy insisted on driving us and the bus to Daytona Beach that night and spending the next day to make it up to us. When we arrived in Daytona around 11pm everyone went their separate ways. Jimmy, the girl singer, and I strolled the beach looking at the sights. Around midnight we decided to crash on the bus and get a fresh start the next morning. Buddy, Annie, and the other 2 band members came stumbling back on the bus around 5am. Next thing I knew the bus started up and Buddy was driving it up on curbs and mediums. I got up and went to the front of the bus to find out what was going on and asked Buddy what he was doing. "I'm driving us back home" he slurred. I said why don't you let me drive because I haven't been drinking and have my driver's license (his had been revoked). "You think you can handle it?" he slurred. I told him I could handle it just fine so he pulled up on a curb and let me behind the wheel. He stumbled to his compartment at the back of the bus and commenced to beat his wife. I thought he would settle in but no, in a while he was staggering back up to the front of the bus. Standing on the lower step below the driver's seat, he began to bad mouth me and other members of the group. I had my hand on the door pull and may have opened it to kick his ass out had I not seen his wife coming forward. I believe that's the closest I've ever come to wanting to kill someone. After we arrived back in Orlando Buddy and Annie got in the female singer's (wish I could remember her name) car to go back to Winter Haven and I drove the bus back to Haines City. Jimmy, Reno, and Mike were still passed out on the bus so I grabbed a fresh set of clothes and went into the house for a shower. I think the owners were on an extended trip somewhere, not sure. As I was leaving the house the phone rang and I answered it. Annie indicated that Buddy had gotten too wasted for rehearsal so we had the day off. I went back on the bus just as Jimmy Carl was waking up.
Anyone that knows Jimmy well enough knows he can sleep through a hurricane. As he was coming to in his typical JCB dialogue: "Where the fuck are we? Where's the goddamn beach?" I told him we were back in Haines City but that I had an idea. He said "What? Take the bus back to Daytona?" I said no; take the bus back to Texas. His mouth dropped open and he turned white as a sheet. After about 15 seconds he said "Let's go!" I checked with the other 2 passengers and got a thumb up from Mike but a negative from Reno. He said Buddy had made arrangements to send him home. After a quick re-evaluation he said "Let's go!" As we were preparing to leave the female singer showed up in her car and we told her our plan to leave. She didn't blame us and wished us the best after unloading Buddy's equipment off the bus. The fuel gauge on the bus did not work so we had no idea how much it had. Fortunately we made it to Jacksonville where we pooled our Orlando earnings and fueled up. Our goal was to get out of Florida so that our grand theft auto offense would be federal instead of Buddy's home state. When we arrived in Mobile Alabama we stopped and had seafood, the most decent meal we had had in 5 weeks. Back on the road we discovered Buddy had bought the bus from a church in Leander Texas. After 19 hours we crossed the Texas border and I laid on the air horn and 4 hours later we were back in Austin. My singer/songwriter friends welcomed us back and we told them the story. Once we were refreshed and rested the first song that just flowed from our souls was 'Amazing Grace'.
The next day we went through the bus and found all sorts of sex toys and drug stuff in Buddy's compartment. I went into the house and called a number on the paperwork for the Leander church. When the man answered I asked him if they were carrying a note on the bus they sold Buddy. He indicated they were but getting ready to go to Florida to repossess it. I said, how about if you could just drive across town? He ended up paying us a $300 collection fee and giving us a note stating he had authorized collection of the bus and exonerating us from charges. That's the Florida story – all pink!
*The Jimmy Carl Black Band* (model '83)

 

Once we had established ourselves in Austin things were a little brighter. The Jimmy Carl Black Band formed consisting of Bob 'Julius' Corbett on sax and duel sax, Danny Matta on trumpet, Mike Ash on keyboards, Toby Anderson lead vocals, Jimmy's son Darrell on drums, available guitar players, and me on bass. Jimmy shared front man duties with Toby and played percussion/drums.

 [Photo: 'Jimmy Carl Black Band July 1983'; courtesy of G. Cowen; Danny Matta trumpet, Bob Corbett sax, JCB, Dennis Young bass, Gary Cowen guitar, with Darrell Black on drums; at the 'Liberty Lunch' in Austin, Tx.]

 

  

 We played Sixth Street Live and Steamboat Springs a couple of   times between May and August of '83 

[Photo 'Sixth Street Live' (venue); courtesy of G. Cowen; from left: Gary Cowen on guitar, Dennis Young on bass,

JCB, Toby Anderson vocals, Mike Ash keyboard, Danny Matta trumpet, and Bob Corbett sax,

with Darrell Black on drums (unseen at the back)]

We survived in Austin but competition is pretty stiff there. Kevin Womack took over managing and booking the band. He got us dates outside of Austin such as Tango's in Dallas, Boston Avenue Market in Tulsa, some seaside beach club in Port Aransas, and others.

I stuck it out with the band until about September of 1983 until I was offered a full time gig with a country band based in Hobbs New Mexico.

Although the money helped, I truly missed playing with my friend Jimmy Carl. The last few years we communicated less but remained friends until the end. See you on the flip side! [Dennis D. Young]
*[Photo top: Dennis Young:] 
"[I] returned to Texas in early '84 and opened The Tavern in Christoval... Jimmy came to visit... and we played this spur of the moment gig at a blues club in San Angelo Texas - Jerry's Hole in the Wall. The band was just as impromptu as the gig so I'm thinking Jerry just billed it as Jimmy Carl Black. Jerry heard Jimmy was in the area and wanted us to play his club. I believe we were just [a] 3 piece and I don't remember which guitar player we used - I knew several in the area."]