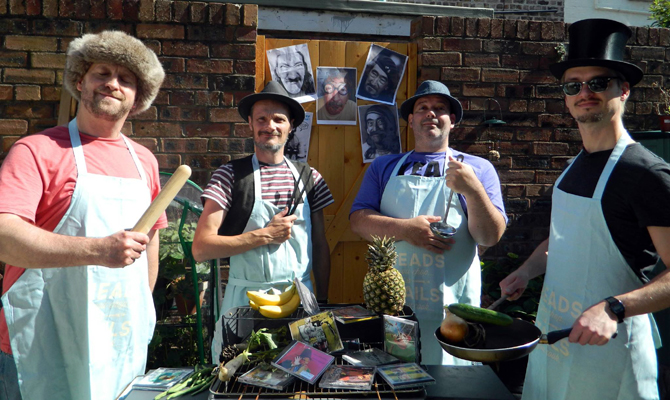 These ex-Muffin Men boys gather together once a year in remembrance of their great friend Jimmy with whom the Muffins toured Europe for many years, often ending up at Jimmy's place in deepest Bayern, Germany, where Moni Black fed and watered them - well, it wasn't water. They played together with others at the benefit gig for Jimmy in London, shortly after Jimmy passed away on Nov. 1st 2008. In 2009, this Fab Four decided to commemorate Jimmy's passing with a gig at The Grape pub in Liverpool and gave the band its name. They played at The Grape pub once each year in November for the next three years.
In 2015, the band switched from commemorating Jimmy's death to celebrating his birth, on Feb. 1st 1938. The venue also switched to The Caledonia pub in Liverpool, and has continued once annually to date. Tilo wrote at the time in Jimmy's Guestbook page:
"Happy birthday Jimmy, wherever you are!! Andy Friz, Carlo, Marty and myself are playing a little gig for Jimmy on Monday 9th Feb in the Caledonia pub in Liverpool. We're called The Jimmy Carl Black Memorial Barbecue House Band and we're going to play old Zappa favourites we used to do with Jimmy, as well as bluesy songs Jimmy used to sing. Free entry of course. Come down if you're around, listen to music, have a few beers and talk about Jimmy!"
Jimmy frequently regaled the young Muffin Men with stories of 60's and The Mothers of Invention, often whilst travelling between gigs. Now the stories are also about Jimmy and those days on the road!
Marking the 5th anniversary of Jimmy's passing in 2013, the band played twice at The Capstone theatre in Liverpool: at the Liverpool Jazz Festival, held in September, and then at the UK premiere of Jimmy's documentary film:
"To commemorate five years since the passing of 'The Indian Of The Group', there will be a screening of the documentary, Where's The Beer And When Do We Get Paid (www.wheresthebeer.de), plus a performance by the Jimmy Carl Black Memorial Barbecue House Band featuring Carlo Bowry, Martin Smith, Andy Frizell & Tilo Pirnbaum."
So it's a one off each year for the likely lads and an evening not to be missed when you're in town, an evening for Jimmy fans, Zappa fans, Blues fans, music lovers:
"The reason we play these gigs is because we all loved Jimmy, learned from him and had a great time hanging out with him. A reason to get together, have a chat about life, music, the universe and everything, drink beer and play music we like to play. Some guests join in, some just listen. It's our little contribution to commemorate a great man and friend."